Error flight fares or airline mistake fare - easy ways to find the cheapest flights
Error flight fares or airline mistake fare - what is that?
If you never heard about error flight fares, also known as mistake fares that is alright. For some time I did not know about their existence as well. But they do exist and most often they are caused by glitches in the airline system or human error. To put it simply the error flight fares are the cheapest flights you can find – they are significantly lower than the usual price for the same route. These big deviations are also known as mistake flight fare.
What are the causes for error flight fares?
There are many reasons why the cheapest flight tickets exist and below I will give you a few examples:
Human error – everyone makes mistakes because we are humans. Miss one digit on the keyboard and a flight that cost 1200$ can cost 120$. That is how an error fare is born. Its as simple as that.
Tech issues and glitches – to avoid the human errors I mentioned nowadays the airlines use complex algorithms to determine the flight fare. But then again those algorithms are written by humans and bugs in code is something inevitable. Connection and database errors are also very common in modern software. Also, most of the airline systems are connected to ancient technology. All these factors "help" to produce these mistake flight fares allowing you to book the cheapest flight tickets online.
Currency conversions – the big variations in the different currencies worldwide are causing big problems when calculating flight fares. There are many examples of flights that cost thousands of dollars are sold for 50$, because of a mistake in the currency conversion rate. Sometimes the changes are so dynamic that the airlines cannot keep up with them and this allows you to find cheapest flight tickets out there.
Base fare mistake and omitted fees or taxes – usually the ticket price is calculated from base fare price and fuel taxes and fees. If there is a mistake in one of those components or better yet one of them is not calculated, this significantly drops the price of the ticket.
The truth is that mistakes happen in every business and the travel industry is no different. The important here is to find those mistake flight fares and book the cheapest flights possible.
How to find cheapest flights - mistake fares?
To be honest, if you want to do it yourself it's very time-consuming. The error flight fares are occurring randomly and are very hard to predict. To find these cheapest flight tickets you need to spend a lot of time on meta search engines for flights. This means daily or even hourly checking the web. And even then you can never be sure that you will find the precious error flight fare. Of course, it is possible – many people have started traveling on mistake fares exactly this way. But in my opinion, this takes a lot of your time and "time is money" as they say. 
So my advice is to start looking at websites and apps that do the search for you and then will notify you when they find cheap flight ticket to your dream destination. Most of these services are free and all you need to do is enter you preferences for departure airport and destination, then they will start sending you notifications about the cheapest tickets they can find.
Below I will list some of my favorites websites and apps for mistake flight fares I have found and used:
This website and app are a little bit confusing to navigate and use at first, but this service is absolutely free and they send you regular updates on your email or phone about the cheapest flights they have found. You can subscribe for many different destinations or topics you are interested in. They use hashtags as a system for subscription to cheap flight deals. This means that you can combine things like – #dealalert #errorfare #europe #usa in one subscription. It is a bit strange, but also very customizable once you get the hang of it. Also the great thing about Fly4free.com is that you don't need registration and all the subscriptions for mistake flight fares can be turned off very easily.
Then you need to click on the "Deal Alerts" icon. Or if you have navigated somewhere with their menu this icon may change to "Singapore alerts" and by clicking it you can subscribe directly for error flight fares to Singapore.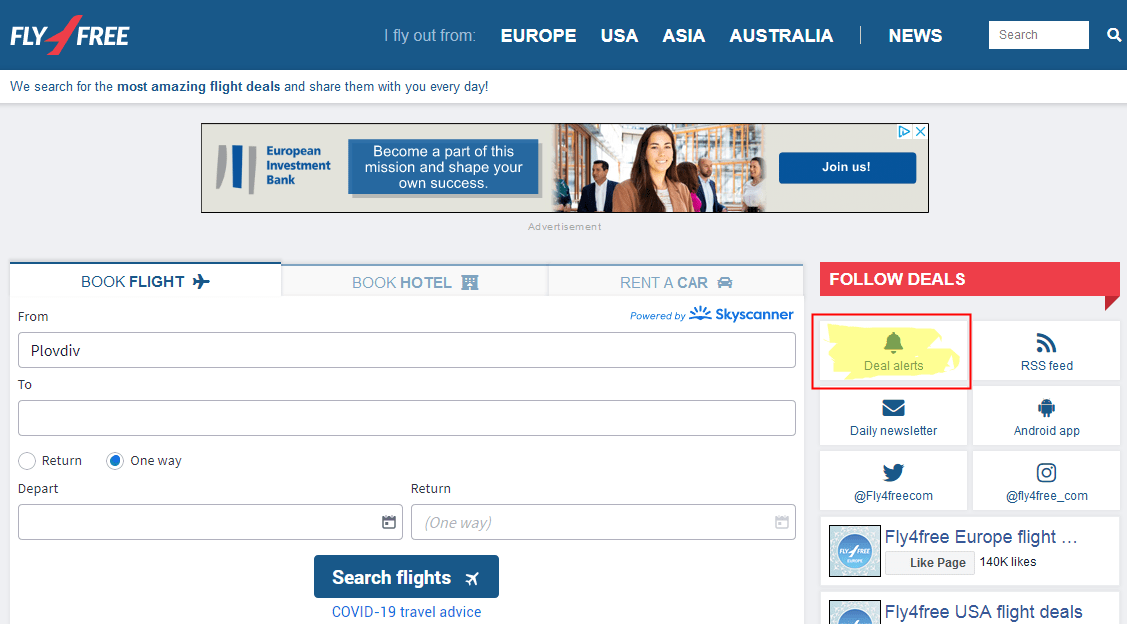 You will be presented with a pop-up window where you can shoes how would you like to get notified about cheap flight deals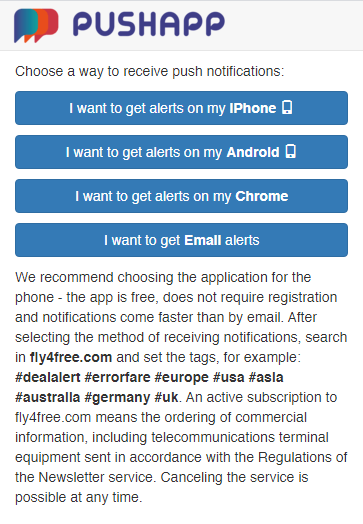 If you choose "Email alerts" for example they will ask you to enter your email and you will receive a notification in your inbox to confirm the subscription to their service.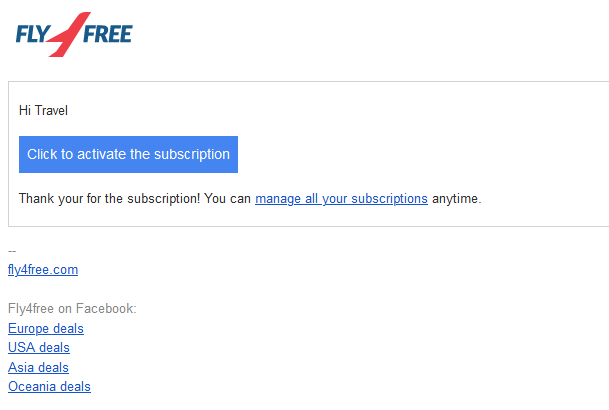 From there you can subscribe and manage your subscriptions. Click on "manage all your subscriptions" to check for what type of cheap flight deals you have subscribed to. You will be presented with the following window:

To see the destinations and topics you are subscribed to you need to click on the following square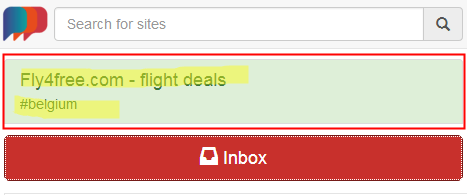 Then you will be able to see your current error fare subscriptions and to add new ones. There is also a very handy description of the service and the possibilities of Fly4free.com. By typing in the field an autocomplete will pop-up with many suggestions for cheap flight tickets destinations and topics. After you are done with your choice just click save or if you want to unsubscribe there is a button for this as well.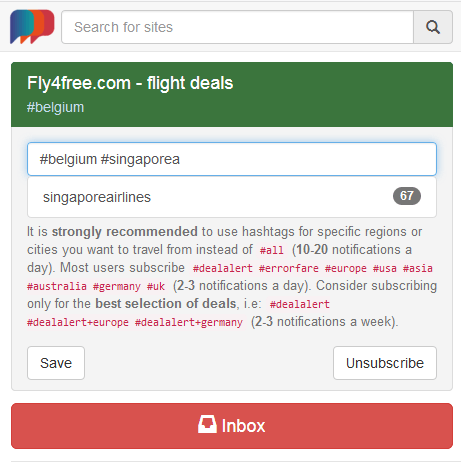 By clicking on the "Inbox" button you can check the latest cheapest flights deals for your selected destinations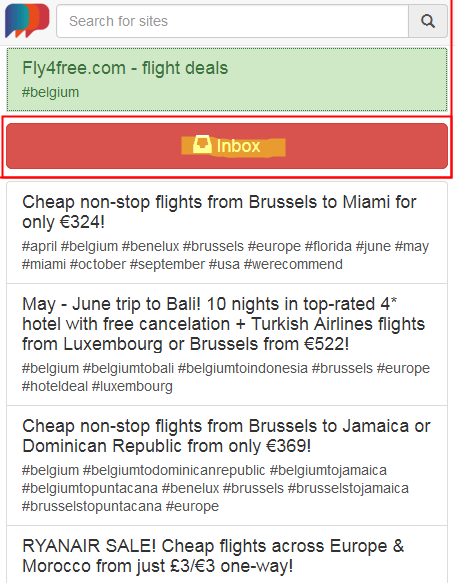 Using the mobile phone app is very similar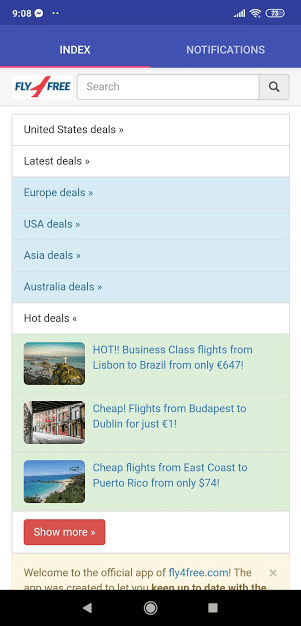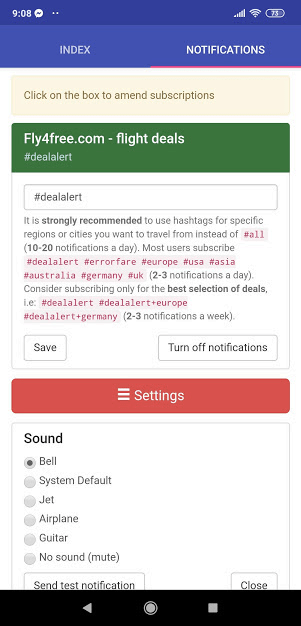 My experience with this method for getting notified about mistake flight fare has been very good. The notification are not spammy – you get only one per day or per week depending on for how many topics you have subscribed to. The only downside is the complicated subscription flow, but its managable.
Secretflying is another subscription-based website where you can enter your preferred departure point and your destinations wishlist, and get notifications about the cheapest flights available. The only caveat here is to get real-time notifications you need to get their app on your phone. The cheap flight deals on their website go to your profile and you can check them there, but you will not be notified on your email.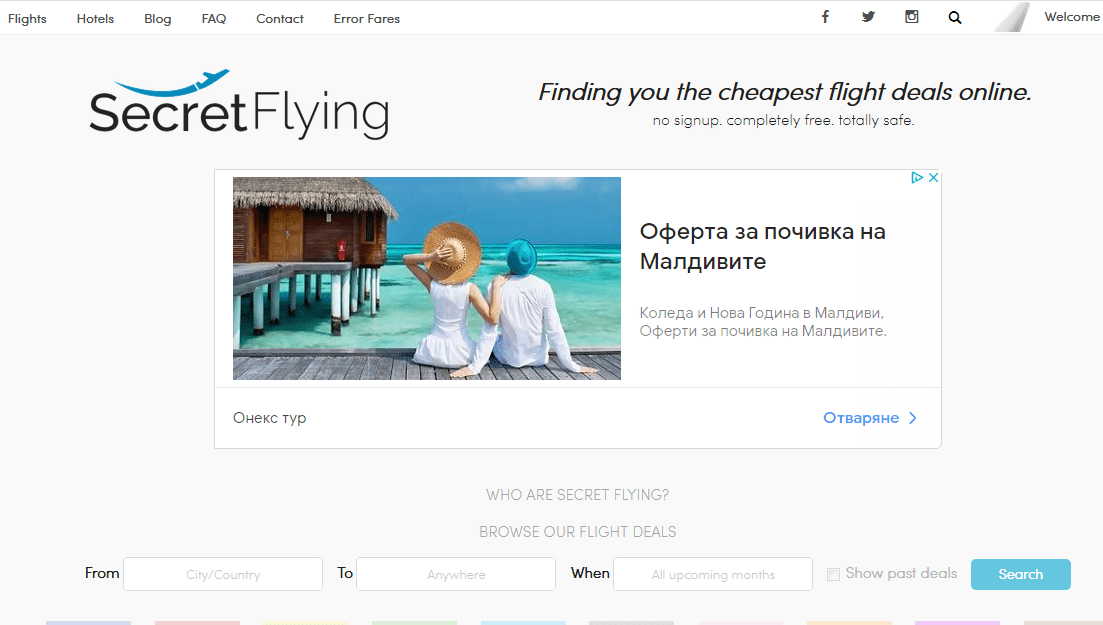 And register a profile. When your account is activated you will be asked a couple of questions to get an idea of what you are looking for and get you started with your subscription.

The questionnaire will let you select the departure points you are interested in, but unfortunately not a particular destination. So you will get all the error flight fares from the selected departure points.

After you have finished with the questions you can download the app and login with your account to get notifications about the cheapest flight tickets from the locations you have selected.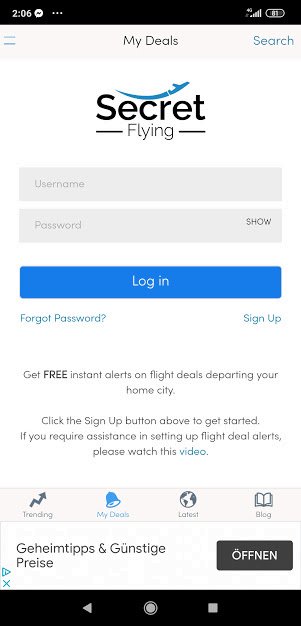 My experience with this website is very good. It is very easy to set up your departure locations and the questionnaire I think helps people that don't know what they actually want. The only problem for me is that you cant get email notifications for the error flight fares.
3. Scottscheapflights.com – email notifications (FREE and PAID | Only US departure airports supported)
This is a website created by e person who found his first mistake fare and got addicted to traveling by buying only cheap flight tickets. You can create a free account but it entitles you to only 1 notification for an international deal per week. Of course, you can always check the website, but as I mentioned this is not the idea here – we need to save time. You can upgrade to Premium account on Scottscheapflights.com which costs 49$ per year. Then you will be entitled to unlimited cheap flight deals and notifications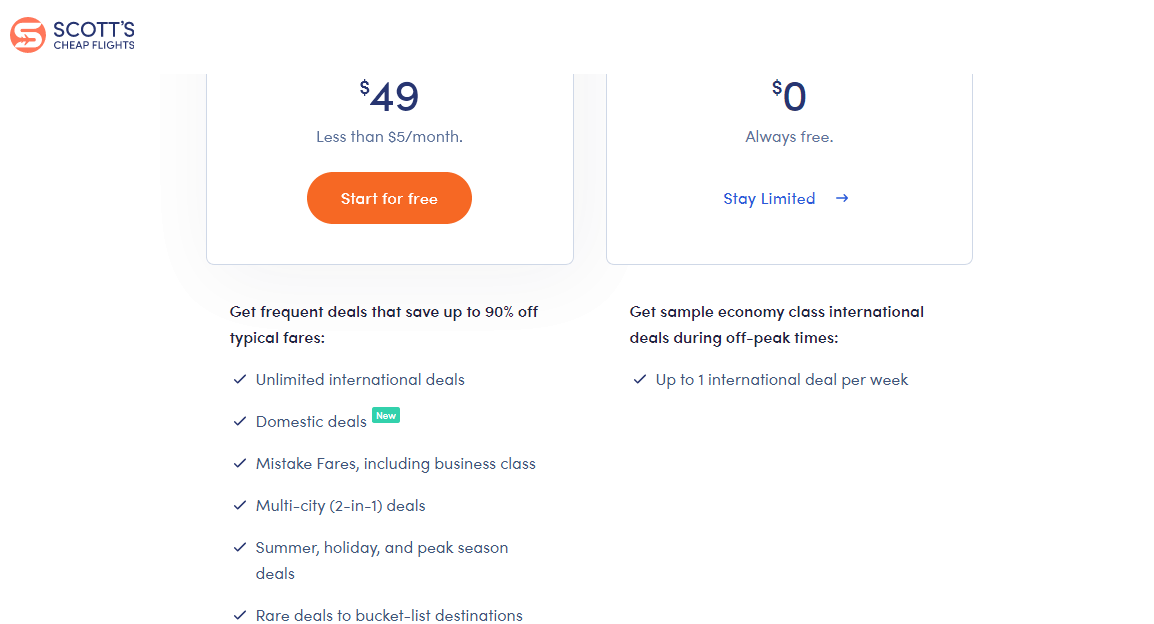 My experience: it is a very professional website, but I personally cannot use it as I am located in Europe. Maybe for people located in the US this option will help find cheapest flight tickets possible.
4. Airfarewatchdog.com – email notifications (FREE | Only US departure airports supported)
Another very good website with a totally free subscription to help you find cheapest flights. You just need to register an account and then in your profile to enter your home airport and set up deal alerts for your favorite destinations.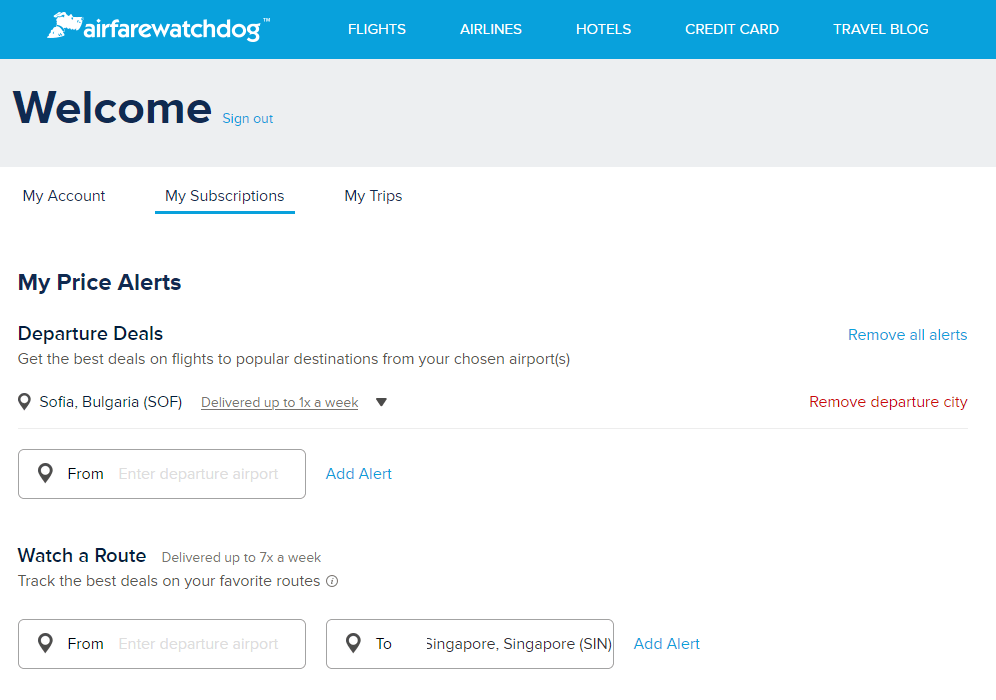 My experience: It's very easy to use and very clear what you need to do to get notified about cheap flight deals, but I personally cannot use it as I am located in Europe. Maybe for people located in the US, this option will be more useful.
5. Flynous.com – email notifications (FREE | Mostly European flight deals)
Here the error fares are mostly intended for the European audience. You can subscribe to a newsletter by marking your preferred departure location (only European airports and countries). Then you will start receiving a summary of the cheapest flights they have found over the week.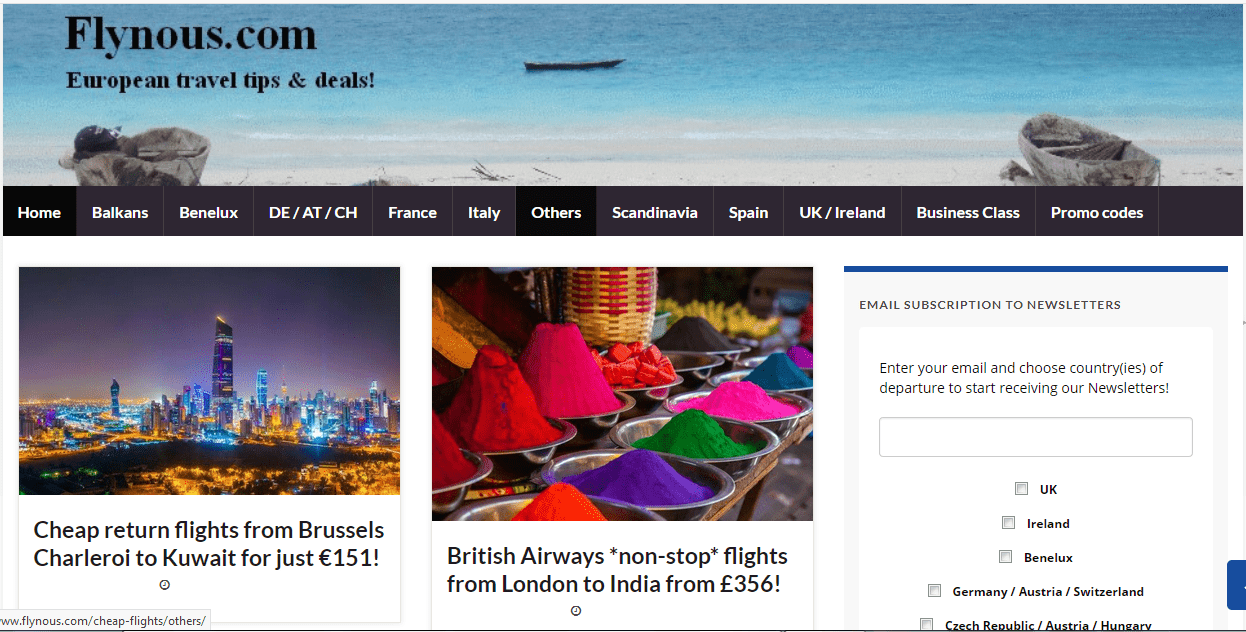 My experience: It's very useful for me as I am located in Europe. The layout is very simple and informative, but there is no profile registration and instant deal notification options.
Another website offering mistake fare notifications, but only over their app. Again you need to subscribe over their website and then download the app, login and start getting notifications about mistake flight fare.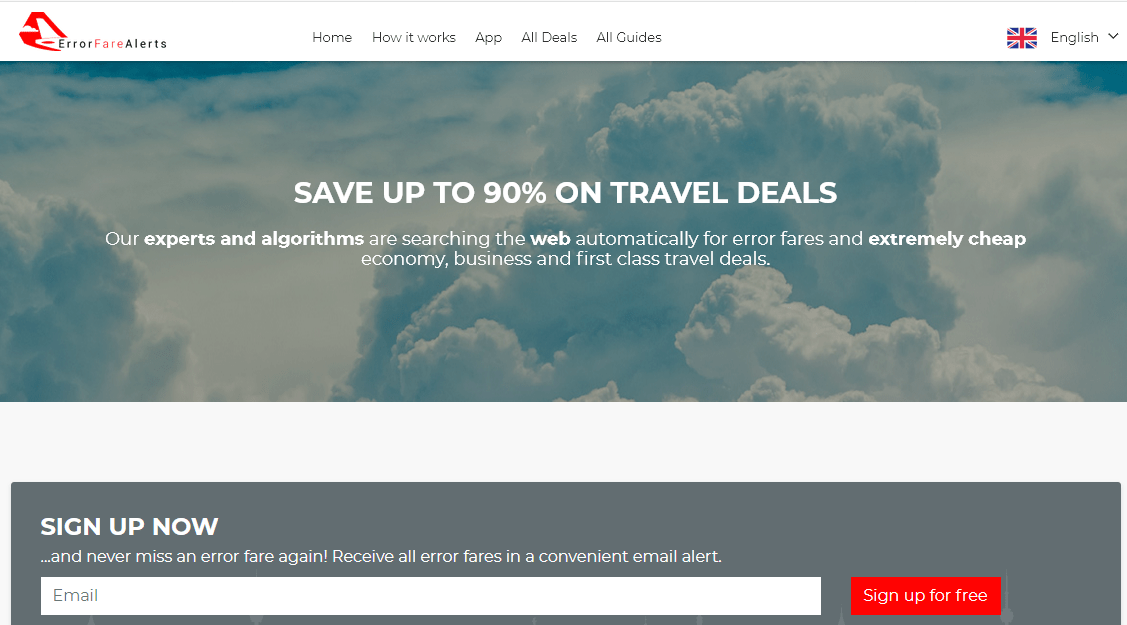 My experience: They have really good deals for business class tickets, but the limited options for select departure airport and destination are not helping a lot, as you will have to browse again through many cheap flight deals.
7. Skiplagged – app searching engine | Android app | iOS app (FREE)
This is a very useful app that gives you the option to check out flight fares for a whole month, browse through them, and find error flight fares. You can also set up notifications if you register an account. The interface is very intuitive and you can easily find the cheapest flight tickets for your dream destination.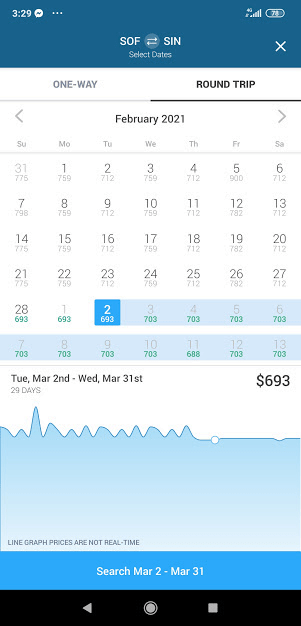 8. BONUS – search for whole month/year in meta search engines for flight tickets
One of the best ways to find error fare by yourself is to do broad searches in flight booking engines. This way you can overview the prices for a couple of months and see gaps, glitches, mistakes in the fares and book the cheapest flight tickets.
For example, you can do this in Skyscanner. There you can choose to see flight fares for the whole month or to select "cheapest month" and the system will display the month with the cheapest flight deals found so far.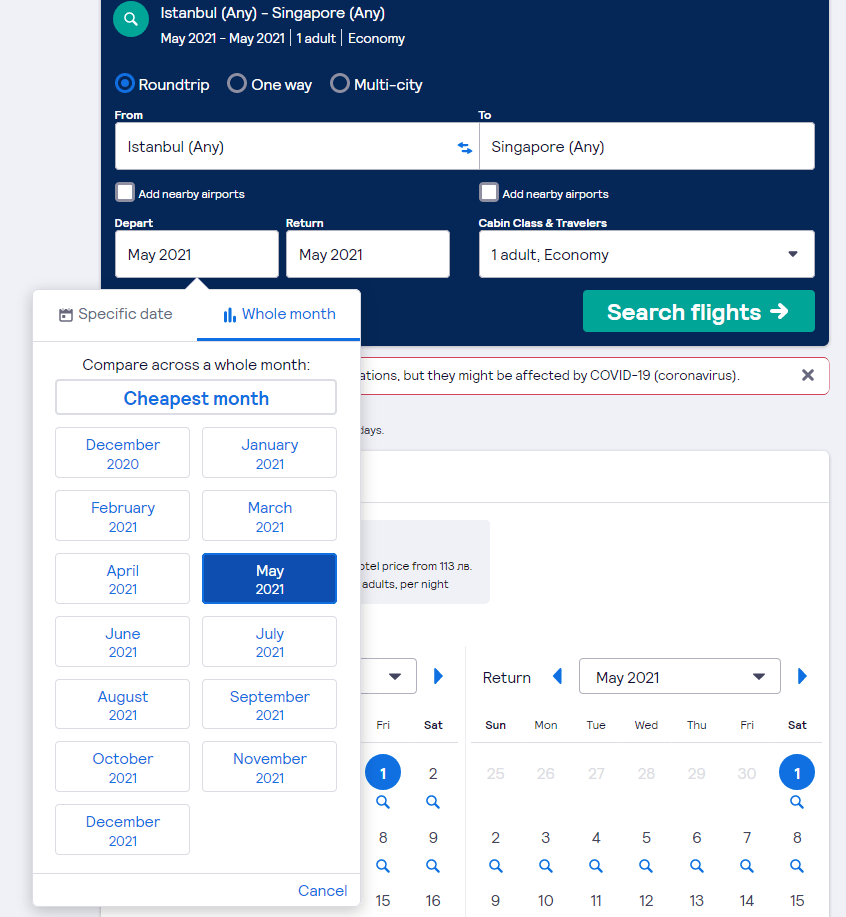 There is another website – Cheapflightsfinder.com, where you can enter departure point, destination and choose to see the cheapest flight tickets from any month or "anytime" – which means the best possible time to travel based on the best deals found so far.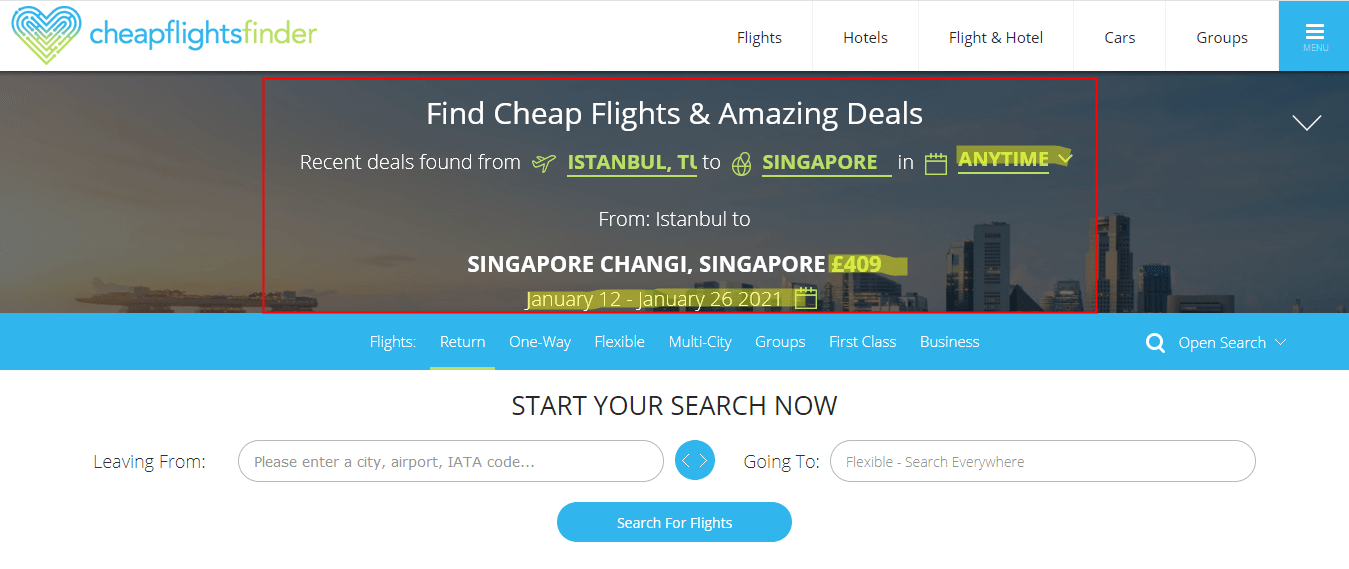 I have found and booked a mistake fare. What to do now?
I would advise you to wait for at least 2 weeks (if the travel period allows) to see if the airline will take any action regarding your booking. What actions you may ask? Well is not very common, but sometimes the airline may cancel the booking and offer you a refund or some other deal which of course will not be as good as an error fare.
Do error flight fares get canceled and how often does this happen?
It is not very common for several reasons. Most of the time the airline does not see your booking in the sea of bookings they get every day. Or sometimes they just don't care if the flight has good revenue. The pricing of the tickets is a very complex process and sometimes the hustle of canceling one mistake fare is just not worth it for the airline. Also, the fear of complaints and bad publicity also can make the airline to cover the loss of a mistake flight fare.
Can the airline at some point ask me to pay the full price of an error fare?
After 2-3 days have passed you are pretty much safe. You are protected by the law in most countries and the airline has to honor your ticket no matter the loss for them.