Last year I was able to organize a mini tour of Germany as part of another trip. And since I had not visited this country, I decided to start directly with several cities at once. The first of which was Nuremberg – a town tucked away in southeastern Germany. After Nuremberg, my plan included the cities of Frankfurt, Leipzig and Dresden.

Nuremberg is a small city (for the size of Germany) located on the Pagnitz River. Its population is just over 500,000 people. It has a rich and complex history. From medieval fortifications to modern art, the sights of Nuremberg have something for everyone to explore. With just one day in Nuremberg, you can experience some of the best attractions this beautiful city has to offer. In this blog post, we'll show you how to make the most of your time in Nuremberg and discover the top sights of the city in one day.
The good thing is that most of the important landmarks in Nuremberg are located on the main pedestrian street Plobenhofstrasse. This makes it easy to visit them all if you have just one day of sightseeing in the city. If you start from the Holy Spirit Hospital and go to towards Nuremberg Castle, all of the sights mentioned in the itinerary below are located on the same street.
Take a picture of Heilig-Geist-Spital (Holy Spirit Hospital)
One of the most iconic landmarks in Nuremberg, Heilig-Geist-Spital (Holy Spirit Hospital) is an absolute must-visit if you're spending just 1 day in the city. This historic building dates back to the 14th century, and has been a hospital, church and home for many over the centuries. It's still in use today as a retirement home and museum, offering visitors a glimpse into the history and culture of this remarkable place. There are many beautiful features to explore and photograph, from the original walls and altars to the gilded stained-glass windows. Don't forget to take some pictures with the Pegnitz river in the background! If you're looking for what to do and what to visit during your 1 day stay in Nuremberg, Heilig-Geist-Spital is the perfect place to start!
Pass by the magnificent Lorenzkirche
Nuremberg is home to many beautiful churches and one of the most notable is the Lorenzkirche. This church dates back to 1270 and features the iconic steeple, which makes it the most striking landmark in the city. The inside of this church is absolutely stunning and filled with artifacts that tell the stories of local history. There are several stained glass windows as well as several paintings depicting Biblical stories. It is also located on the main pedestrian street so you cannot miss it.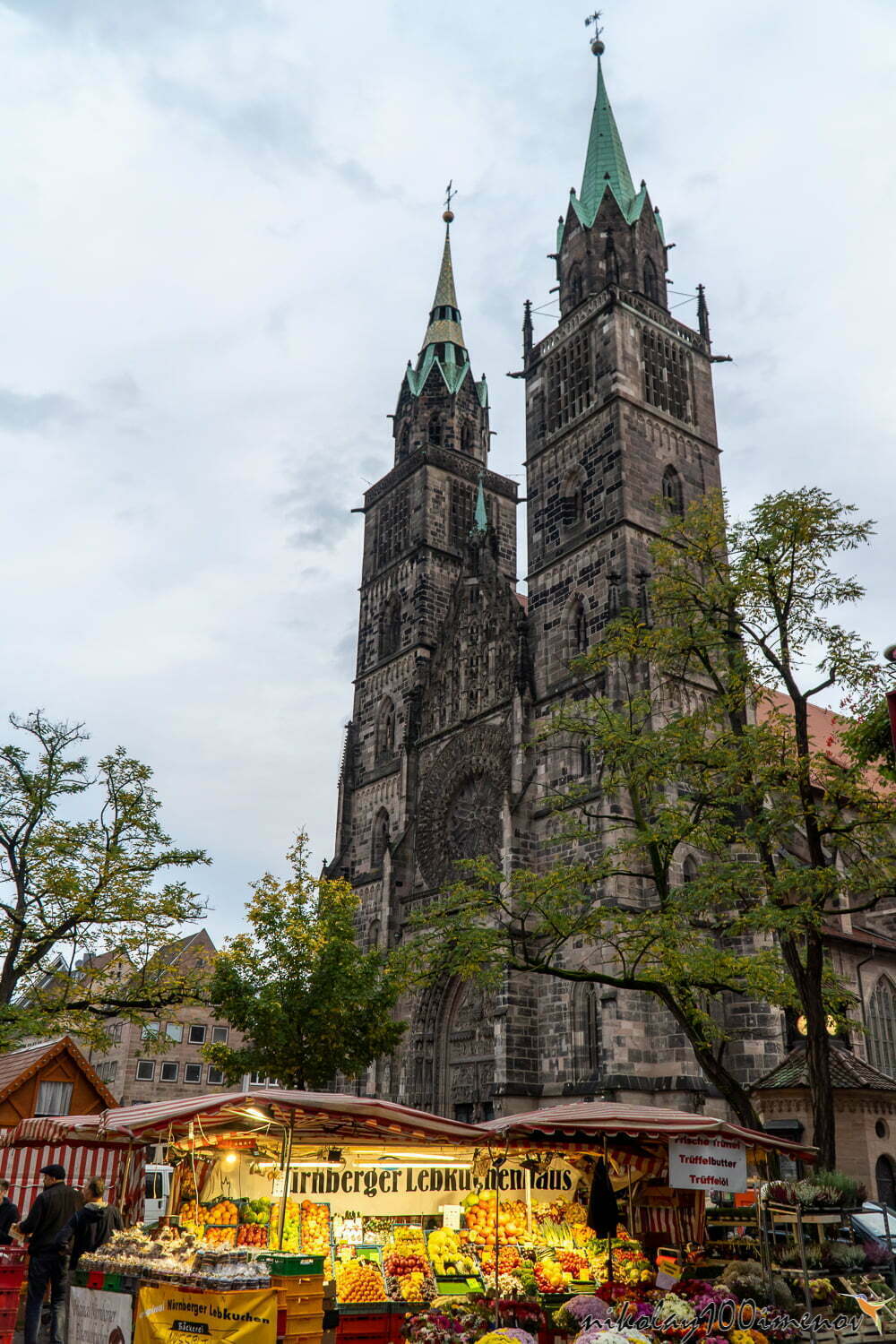 Hauptmarkt square with Frauenkirche and Schöner Brunnen
If you're looking for the best place to experience the culture and history of Nuremberg, the Hauptmarkt Square is a must-visit destination. This square is home to two of the most iconic buildings in the city: the Frauenkirche (Church of Our Lady) and Schöner Brunnen (Beautiful Fountain) and it is often crowned as the most beautiful Christmas market in Germany. What makes this spot so special is its long history as a meeting point for merchants, courtesans and local citizens.
The Frauenkirche is one of the most important churches in the city. Built in 1352, this stunning gothic structure has a beautiful façade and interior filled with impressive artworks. Inside, you will find carvings, stained glass windows and frescoes.
The Schöner Brunnen is also worth a visit. This magnificent fountain was constructed in 1385 and has been an important cultural symbol in Nuremberg ever since. It features a stunning figurative relief, which includes Emperor Charles IV and other figures from Nuremberg's past. The fountain is a great spot to snap some photos, as it is a beloved tourist attraction.
Overall, Hauptmarkt Square offers plenty of what to do and what to visit. Whether you are interested in the city's rich history or simply want to take in the beauty of these two impressive monuments located on Hauptmarkt Square will not disappoint.
Cheap Flights to Nuremberg
Origin - Destination
Departure at
Return at
Find tickets

Vilnius

↔

Nuremberg

21 October 2023
24 October 2023
Buy from 72

Bologna

↔

Nuremberg

23 October 2023
24 October 2023
Buy from 81

Valencia

↔

Nuremberg

10 November 2023
12 November 2023
Buy from 108

Budapest

↔

Nuremberg

5 October 2023
8 October 2023
Buy from 110

Naples

↔

Nuremberg

14 October 2023
15 October 2023
Buy from 116

Warsaw

↔

Nuremberg

14 October 2023
16 October 2023
Buy from 132

Wroclaw

↔

Nuremberg

13 October 2023
15 October 2023
Buy from 136

Gdansk

↔

Nuremberg

13 November 2023
16 November 2023
Buy from 141

Istanbul

↔

Nuremberg

20 October 2023
25 October 2023
Buy from 141

Vienna

↔

Nuremberg

30 October 2023
31 October 2023
Buy from 142
Find something to eat - Rostbratwurst and rot beer
No trip to Nuremberg would be complete without a stop for some delicious food. For a traditional experience, try the Rostbratwurst, which is made from high quality pork and beef. It's served with sauerkraut, potato salad and horseradish, and it tastes even better when washed down with a pint of rot beer. Rot beer is a traditional German beer with a reddish-brown hue. It has a sweet and malty flavor with hints of caramel and nuts. You can find the Rostbratwurst and rot beer in many restaurants around town, but it's best to go to one of the traditional restaurants to get the true local experience. There are many on the main pedestrian street as well as in the city centre of Nuremberg.
Places to stay in Nuremberg
The gigantic Sebalduskirche (St. Sebaldus Church)
Nuremberg is incomplete without a visit to St. Sebaldus Church. Built in the 13th century, this impressive Gothic structure towers above the city with its majestic spire. Inside, you can take in the awe-inspiring beauty of the frescoes and stained glass windows that adorn its walls.
St. Sebaldus Church is an important part of Nuremberg's history, having been heavily damaged during WWII bombings before being restored. Today, it stands as a testament to the city's resilience and endurance. And the beauty of its interior and exterior make it a must-visit for any traveler. The entrance is usually free, but you can make a small donation when getting inside, which goes toward the maintenance of this cultural masterpiece.
If you're lucky, you might get to experience a performance at the church. Every year, it hosts a series of concerts, from classical music to choral works, making it a great place to relax and take in some culture.
No matter what brings you to Nuremberg, be sure to take some time to marvel at the grandeur of St. Sebaldus Church. Its beauty and significance make it one of the most fascinating sights in the city.
The Kaiserburg Castle is one of the most impressive structures in Nuremberg and a must-see for any visitor. Dating back to the 11th century, it was home to many German emperors over the centuries and is now a popular tourist destination. The most impressive thing about the Nuremberg Castle is that the structure is built literally inside a rock. You will see that going around its walls.
Standing tall atop a hill overlooking the city, the castle provides breathtaking views of the historic centre.
Inside the castle walls, you'll find numerous towers and buildings, as well as the Imperial Chapel with its magnificent gothic architecture. Visitors can explore the grounds on their own or join a guided tour to learn more about the history of the castle. The castle also features a museum, which offers a unique look into life in medieval times. The park and gardens surrounding the castle are super impressive. They are so well-maintained that they look like a piece of art themselves.
No matter how much time you have in Nuremberg, make sure you don't miss out on this amazing landmark.
I liked Nuremberg city a lot. It reminded me about the town I currently live in – Plovdiv, Bulgaria. Not too small, but also not too big – the perfect blend of culture, history, nightlife, and good food. I could definitely see myself living in this town.