This year thanks to the wedding of my friends had the opportunity to visit the rock phenomenon Meteora in Greece. The area is simply a paradise for landscape photographers. Meteora is located next to Kalambaka (known also as Kalampaka). The town lies at the foot of the rock formations and the view from the streets of Kalambaka is incredible.
There is an is an asphalt road from Kalambaka to the monasteries of Meteora that is 3 km. It is possible to go for a walk to the top of Meteora, but the slope is quite serious and the climp will be quite tiring.
Still I managed to make some interesting shots during sunrise. And this time I decided to make the composition a little more interesting by doing a few selfyes of this amazing place.
A lot of people had gotten up early like me, hoping to see the sunrise on this breathtaking place. Unfortunately, the clouds didn't disperse, but nevertheless the view from the top of Meteora is worth seeing even in this moody weather. 
The monasteries of Meteora pop out wherever you may look. The monasteries are a total of 9, but open to visitors are only 6. When you see them, you will not believe that someone can built something on this rock. Some monasteries are literally cut off from the world and the only contact with reality are cable cars that connect the monastery to the rest of the world. These cable cars carry supplies and people.
There are many theories about the origin of Meteora, the most popular is that 60 million years ago this plece was the bottom of a huge lake, which after a natural disaste has withdrawn to the sea and has left these amazing rock formations.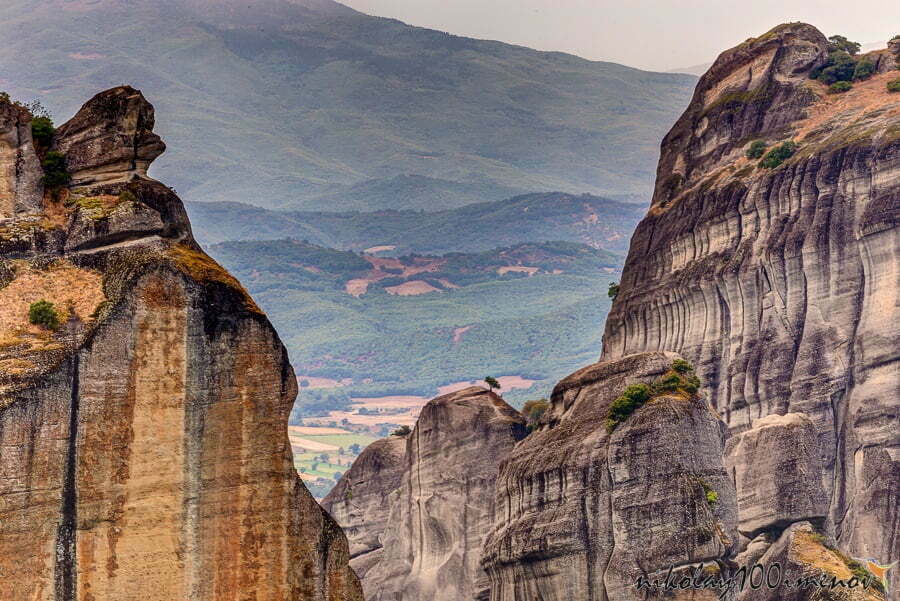 Realizing that due to bad weather I will not have the opportunity to make more pictures, I tried to make couple of timelapses. On the second day, the clouds which were passing very low and occasionally covered the rock phenomenon, were alternated by rain storms, which made both timelapses quite interesting: