Android Multimedia GPS Infotainment Units: Which the Right One for Your Car
Have you ever been driving down the highway and suddenly realized that your car's infotainment system is outdated? It can be frustrating to realize that your vehicle's built-in features don't meet your needs, especially if you just want to take it out for a drive. Luckily, there are many ways for you to upgrade your car or truck with an Android multimedia, navigation or infotainment system.
Android-based car multimedia systems have come a long way since they first appeared on the market. They are now much more refined, offer better sound quality, and can even display Google Maps right on your dashboard screen as you drive down the road—the ideal solution if you spend all day in your car and depend on it to get around town! But there are many options to choose from, and with so many brands claiming to be the best Android Car Multimedia GPS Navigation Systems on the market, how do you know which one to go with?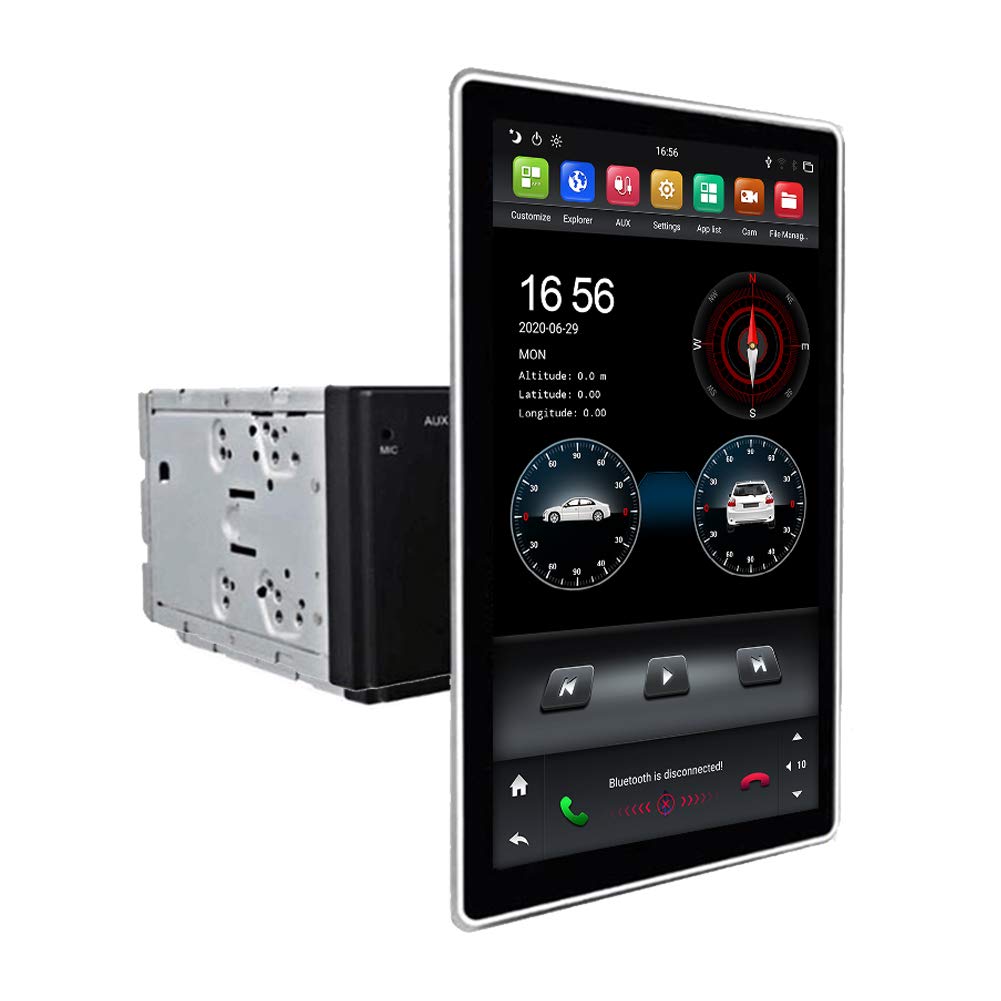 What is an Android car multimedia system?
An Android car multimedia system is an aftermarket navigation and infotainment system that runs on the Android operating system. These systems are typically much more affordable than OEM systems, and offer a wide range of features and customization options. When choosing an Android car multimedia system, it is important to consider your specific needs and what features are most important to you. For example, if you are looking for a system that will allow you to stream music or make hands-free calls, then you will want to make sure that the system you choose has Bluetooth connectivity. If you are looking for a navigation system, then you will want to make sure that the system you choose has built-in GPS. You should also pay attention to the screen size, as this can vary depending on how many inputs you want. For example, some screens have touchscreens that can be customized with different icons, while others have buttons only. There are also Android Infotainment systems which are very popular because they include every option in one package. The downside of these units is that they can be quite expensive. Regardless of which Android car multimedia system you decide to purchase, there are plenty of companies who offer installation services so installation should not be difficult at all!
Android Multimedia, Android Infotainment and GPS Navigation - What is the difference?
The term infotainment refers to a car system that integrates audio and navigation functions. This functionality can include navigation maps with voice guidance, music streaming services, podcast playback and audiobook listening. Infotainment systems are also often able to connect your phone or tablet via Bluetooth or USB so that you can play music through them as well as use them for other purposes like calling hands-free while driving (known as "hands free" mode).
GPS Navigation systems use satellites in orbit around Earth to track your location continuously while you drive. They then display onscreen directions based on these calculations which provide highly accurate routes across large distances quickly and easily without having any input from passengers at all!
Some infotainment systems also include GPS navigation features for added convenience. In some cases, a GPS Nav system that you buy separately will be able to connect via Bluetooth or USB so that it can function as part of your car's existing infotainment system.
The Infotainment and GPS Navigation systems have many differences. One difference is that infotainment systems can play music, podcasts, and audiobooks while GPS navigation systems do not offer this functionality. A second difference is that GPS nav units are more likely than infotainment to use satellite data for accurate directions across long distances quickly and easily.
If you're looking for a new Android GPS Navigation system for your car, you might be wondering what the difference is between Android Multimedia, Android Infotainment and GPS Navigation systems. Android Multimedia Systems are built-in entertainment systems like stereos or DVD players with added navigation features (GPS). They can display maps on a screen and guide you through traffic, but they don't have any other functions besides audio playback. They also only work when the car is running so they won't be helpful if your battery dies or if you get stuck somewhere. These are not safety devices because they don't let you talk to emergency services if needed. That's why it's important to make sure that you get an Android Infotainment System instead. An Android Infotainment System is basically an Android Multimedia System plus all the safety features found in a traditional infotainment system. It includes text messaging, Bluetooth integration, emergency service apps and more than just stereo or DVD player capabilities. You can watch videos on these screens without worrying about distracted driving because there are no touchscreens involved – everything is controlled by buttons and knobs instead. Finally, there are Android GPS Navigation Systems which have all the benefits of both types of devices combined into one package!
What do you need to consider when buying an android car multimedia system?
There are a few things you need to consider when purchasing an Android car multimedia system for your car. First, you need to decide if you want a GPS navigation system or an Android infotainment system. Both have their pros and cons, so it's important to decide which one is right for you. Second, you need to make sure that the system you choose is compatible with your car. Third, you need to decide what features are important to you and make sure the system has them. Fourth, you need to read reviews to get an idea of what others think of the system. Fifth, you should compare prices to get the best deal. Sixth, you should make sure that the company offers good customer service in case you have any problems with the system. Seventh, you will need to find a retailer who sells the type of Android car multimedia system you want. Eight, most Android navigation systems come preloaded with map data (either pre-installed on the device or available for download). However, some offer live traffic updates that allow drivers to see traffic conditions in real time before they start driving.
Which version of Android should I choose?
There are three versions of Android: Android 10, 11 and 12. While all three are designed to be used in cars, there are differences between them.
The first two versions (10 and 11) were originally released as a part of Google's Mountain View campus' Lunar New Year celebrations in 2019. They were not intended for use on cars at all but rather as standalone devices that could be plugged into an existing infotainment system without having any other software installed beforehand.
The third version, which was released in late 2019 after the original release date had passed, is called "Android Auto" and works specifically with phones based on the OS itself — meaning no additional software is required before you can plug your phone into it and begin using it as an infotainment system!
Android Auto is a version of Android that is optimized for car use with phones based on Android OS. It allows you to access your phone's features through apps like Maps or Google Assistant (which can be activated by saying "OK Google"). The app also has a voice command feature that lets you control many functions like music playback using only voice commands — no hands required!
While Android Auto has been around since 2016, it wasn't until 2020 when it became widely available as a way to integrate your phone into your car. Apple Carplay is another option for integrating your phone into your car. Carplay works specifically with phones based on iOS and allows you access to many of the same functions that Android Auto does.
Which version of Android should I choose? When deciding which version of Android to use, consider which features you would like access to from your phone. Some apps like Maps and Google Assistant are available on both systems while others are only available in one ecosystem (for example, Apple Music is an app exclusive to Carplay). If you want all the features that come with a system without any compromises then there's no reason not to go full hog!
The main differences between Android 10 and 11 Multimedia radios is that the latter has more advanced features. Android 11 also includes a bigger screen which makes it easier to see what's happening on your phone. Additionally, there are several other features such as voice recognition, voice commands, USB sockets (to connect another phone or music device) and Bluetooth connectivity.
What are some of the apps that work great with a system like this?
You can use your Android Car Multimedia GPS Navigation and Infotainment system to access a variety of apps. The best part is that most of these apps work great with your system, so you'll be able to enjoy a wide range of entertainment options while on the road. Here are just some examples:
Music Apps: Pandora, Spotify and Google Play Music
Navigation Apps: Google Maps and Waze (for routing directions)
Social Media Apps: Facebook and Instagram
Messaging Apps (Messenger): WhatsApp Messenger Snapchat Facebook Messenger Skype Viber Line Viber
Does this replace my OEM audio unit, can I just install it in my dash?
Yes, you can replace your OEM audio unit with Android Infotainment system. The primary benefit to using Android Infotainment system is that it provides the same functionality as an aftermarket stereo while also allowing easier access to your phone. With Android infotainment systems, you get all of the features that you would expect from an aftermarket stereo (Bluetooth, FM radio, etc.) without having to deal with any of the headaches.
You have a few different options when it comes to installing an Android car multimedia system in your vehicle. You can go with a double-DIN unit, which will take up more space in your dash but will give you a larger screen. You can also go with a single-DIN unit, which is smaller and will take up less space in your dash. If you're looking for something that's even more discreet, you can opt for a headrest monitor or an overhead monitor. All of these options have their pros and cons, so it's important to decide what's right for you and your car before making a purchase. Do you want to install your Android car multimedia system yourself? Will you be driving long distances? Do you need lots of storage for media files? Do you want hands-free phone capabilities? These are all things to consider when choosing the best Android GPS navigation system for your needs.
You should consider your options for upgrading your car or truck with an Android multimedia, navigation or infotainment system.
If you are looking to upgrade your car or truck with an Android multimedia, navigation or infotainment system, you should consider the following:
The size of the screen. This is important because it affects how much information can be displayed on each screen. If you have a small display, then icons will appear smaller and may not fit well on the screen at all times. However, if your vehicle has a large display (such as those found in some cars), then there may be room for larger icons that take up more of the space available on their respective displays.
How many features are included with these systems? Some models include more features than others—and some people find them useful while others do not want anything extra added onto their vehicles without paying extra money first! Make sure that whatever product(s) are chosen fit into what kind of person/vehicle type/needs before making any purchase decisions so as not waste time later down road."
A car is a complex machine that requires lots of parts and features.It can be hard to know which ones will do what you want them to do, especially if there are many different models from which to choose.In addition, some cars just don't have all the bells and whistles that some drivers want their vehicles equipped with.Luckily for those people who aren't satisfied with what comes standard on their vehicle, there are plenty of options when it comes time to upgrade or customize.
Recommendations For An Android Infotainment System
There are a few things you should keep in mind when shopping for an Android infotainment system for your car.
First, consider what you want to use the system for. Do you want it just for navigation, or do you want a full-fledged multimedia system?
Second, take a look at the screen size and resolution. You'll want a system with a large, clear display that's easy to read.
Third, make sure the system is compatible with your car's make and model. Not all systems will work with all cars.
Fourth, consider your budget. Infotainment systems can range in price from a few hundred dollars to several thousand.
Fifth, think about what features are important to you.
There are many Android GPS navigation systems on the market. You want to make sure you buy from a good store. A good store will have a return policy, a warranty, and good customer service. They will also have a wide selection of products. You should also make sure the store you buy from has a good reputation. You can check out my guide for the Best Android Multimedia for 2022, where I list the best brands and stores to buy android multimedia. Here are just a few:
If you are looking for an all-in-one solution that can replace your OEM system and provide you with more features than ever before, then Android car multimedia and GPS navigation systems may be the answer. These systems offer a wide range of apps and features including navigation, music streaming services like Spotify or Pandora Internet radio stations from TuneIn Radio along with many other entertainment options. As technology continues to advance it seems inevitable that we will see more variations on this theme in the future but until then hopefully these tips will help make your decision easier when choosing one out there!