Best Android Head Units in 2022 | Android Car Infotainment
Android Head Unit is a great way to enhance your car's infotainment system. They allow you to integrate your smartphone, tablet or other device with your car's audio system. Android navigation also gives you access to a variety of apps, internet radio and music streaming services. These devices are easy to install and use. Here we will show you the best Android Head Units of 2022.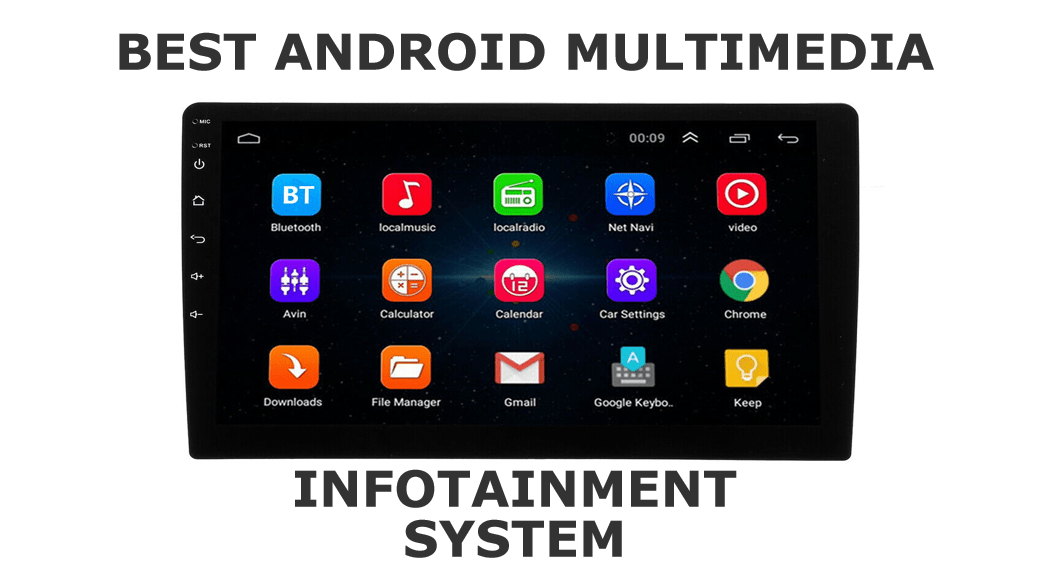 Advantages of Android Head Unit
One of the biggest advantages of Android head unit is the ability to install a huge range of applications. Almost all apps from the Google Play Store can be installed on Android Radio. So you yourself can choose what the content of your multimedia should be. Other advantages of Android navigations are:
Bluetooth connectivity (call reception)
GPS connectivity (navigation)
4G and 5G connectivity (mobile internet)
Wi-Fi
Large display
Ability to connect a rear view camera
Video and Music Streaming (Youtube, Spotify, Netflix and more)
Another big advantage of the new multimedia is that they integrate seamlessly into the car's dashboard. In previous versions, you had to think on your own how to install the device without noticing that it is not the original car radio. Some people even cut the dashboard and fit homemade consoles and masks to make the installation look good. This is not necessary today. All of the vendors listed below sell Android media consoles that integrate perfectly into your car's dashboard. It is almost impossible to tell that a given radio is not the original one that was installed from the factory.
Features - what to look for?
As with most modern devices, the most important features for an Android head unit are the processor and the RAM memory. In 2022, I would recommend buying devices with an 8-core processor and a minimum of 4 GB of RAM.
Why an 8-core processor and which one? The reason is one – the 4-core processors are already morally outdated and cannot handle a large part of the new applications. Even if they manage to charge them, they will be almost all the time at 100% capacity, which means a lot of heat generated in the multimedia and a very short life of the processors themselves. It almost doesn't matter exactly what the 8 core processor (make, model, etc.) will be in your multimedia. Naturally, the faster it is, the longer it will serve you.
Why 4 GB RAM minimum? The reason is again modern applications and the Android operating system itself. It alone will take 1.5 to 1.8 GB of RAM in your device. So you will have only 200MB of space for other applications in case you buy a device with 2GB of RAM, which will fill up very quickly and the multimedia will constantly crash and you will have to restart it or clear the RAM memory. In addition, Android navigations with 4GB RAM or more usually have the newer type of RAM memory – DDR4 or DDR5, which is several times faster.
Other features – it already depends on what is important to you in a multimedia. Should it have very good sound or a quality screen, should it support various additional accessories and other extras.
screen and resolution – most modern Android head unit have very good screens: QLED or IPS. The resolution is also usually standard – 1280×720.
internet connectivity – 99% of multimedia supports WiFi connectivity. As some already have a separate SIM card slot and 4G or 5G connectivity.
RDS – for me, this is one of the other important features for an Android navigation. RDS stands for Radio Data System or in short it allows you to see the name of the radio station and the name of the song if the radio station supports it. Surprisingly, most devices in most cases do not support RDS, which means that you will only see the frequency of the given station, without any additional information. Therefore, it is good to check if the multimedia supports this function before you buy it.
Bluetooth, USB, microphone output and rear view camera – these are now standard features for all Android head unit.
What are the best Android car multimedia for 2022?
Below we have selected the best Android car navigation systems for 2022. Media are sorted by brand and features, as well as reviews from users using these systems.
The company specializes exclusively in the sale of Android head unit for cars. As with most companies, each device comes with a lot of accessories, but the difference is that Vtopek offer bundle deals with premium accessories included, which are usually extra. Such as rear view camera, video recorder, fan, microphone and others can be included in this company's offer. Vtopek offer a large selection of multimedia suitable for any car brand. The features of the devices are also up to date with modern requirements. Here is a comparison of the models on offer.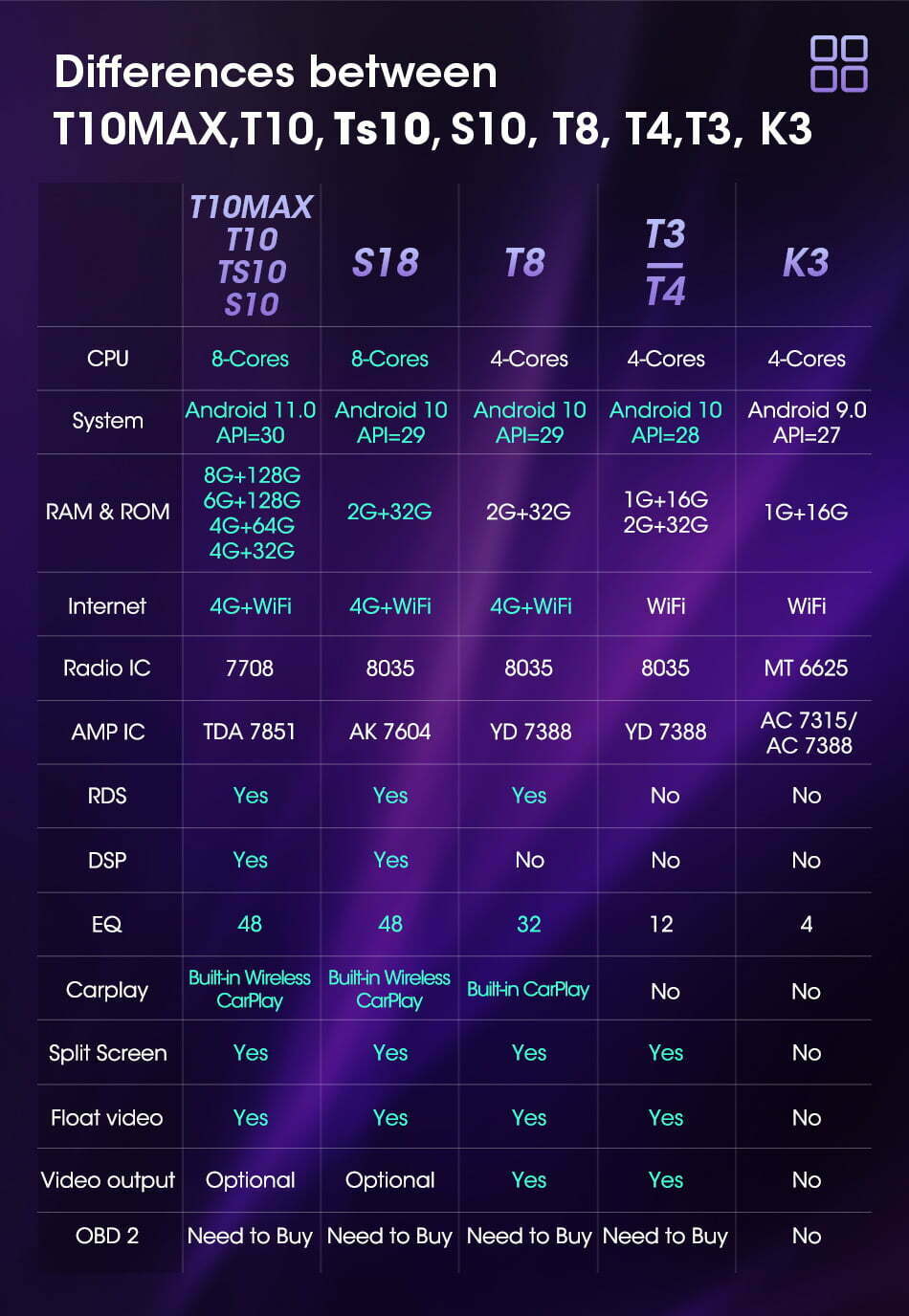 Where to buy Vtopek Android Head Unit?
Joying is a Chinese manufacturer of Android navigation and car systems that has been in the market for decades. During this time, the company has proven itself as a supplier offering premium devices. The founder of the company realized one day that the original radio in his car did not offer the functionalities he wanted, so he decided to create the company Joying. The prices of this supplier are slightly higher than other companies, but the quality of their devices has been proven over time. The interesting thing is that the multimedia available is of all shapes and sizes. You will surely be able to find the right one for you. The company's strategy is to sell universal multimedia, which may be a small disadvantage because they do not offer consoles for the dashboard of different car brands. Therefore, you should carefully choose the shape and size of the navigation you will order.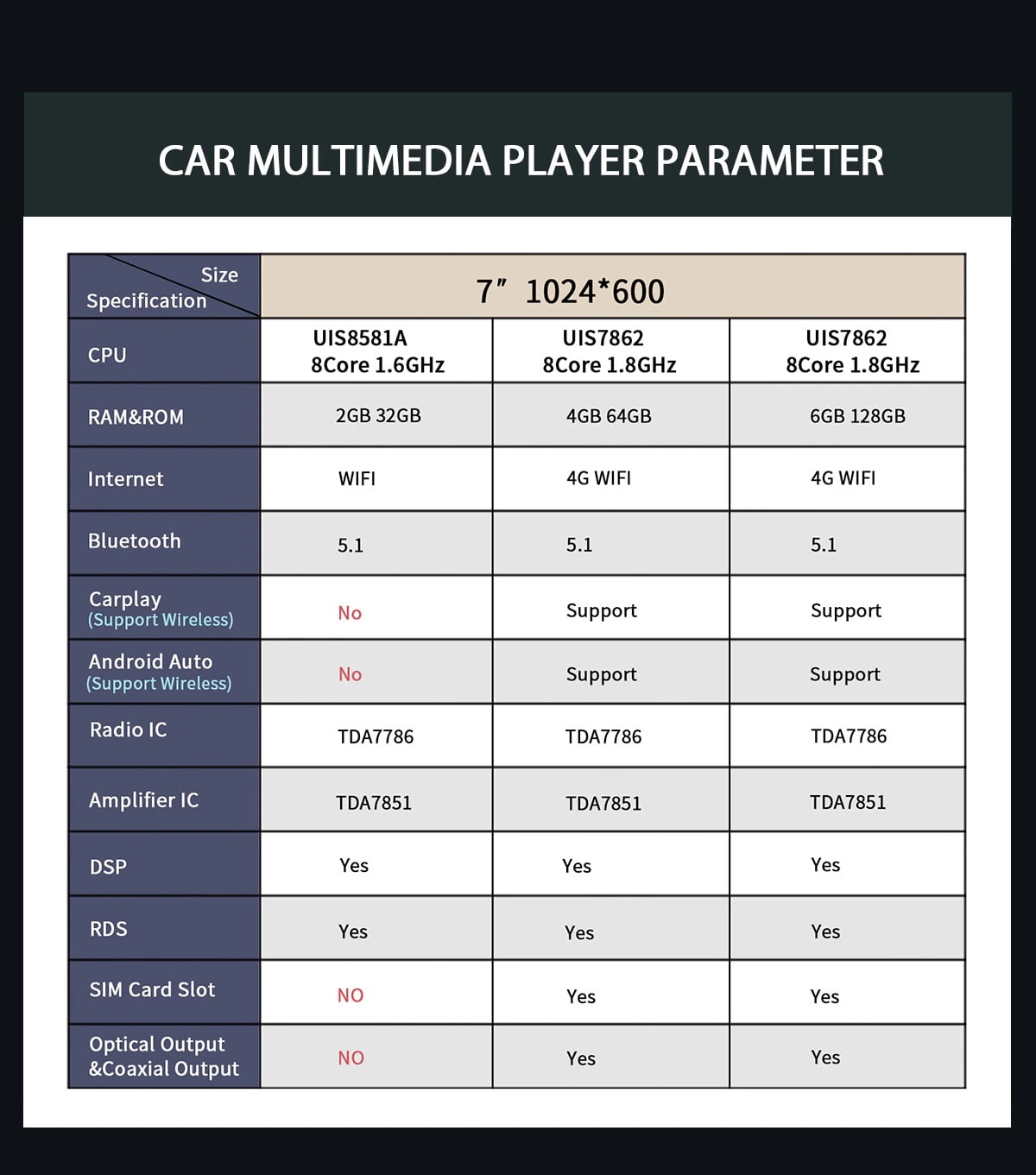 Where can I buy Joying Android Head Unit?
It is one of the best-selling brands worldwide. Podofo has been in the market for over 10 years and offers very good quality Android navigation and devices. A big advantage of the company is the low price and franchise stores located all over the world. Podofo have warehouses all over Europe, which on the one hand means that you will receive your shipment much faster and on the other hand you will save yourself possible surcharges and arguments with customs. The company also offers a wide variety of multimedia with different screen sizes and shapes.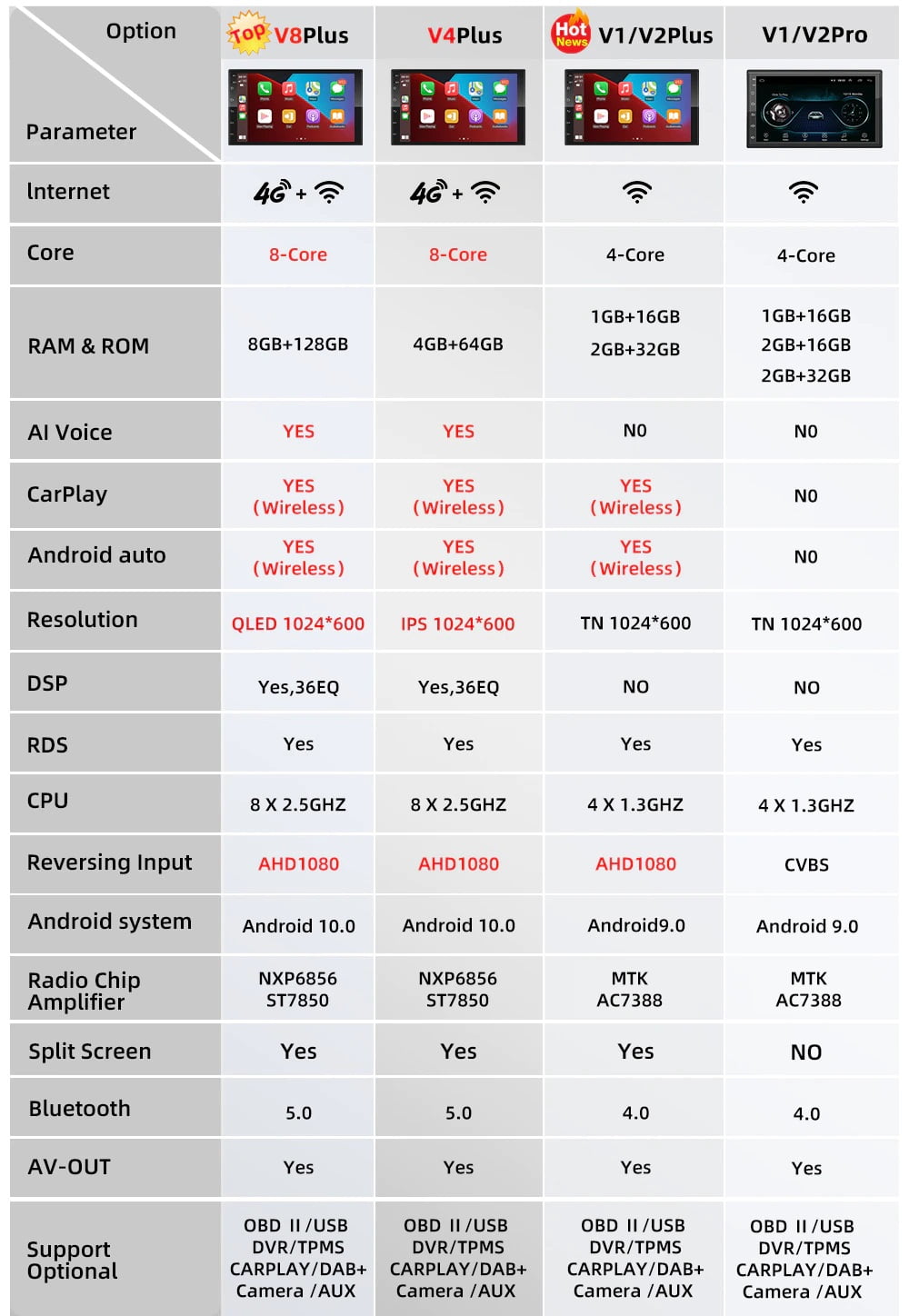 Where can I buy Podofo Android Head Unit?
JMCQ is again a company specializing in the production and sale of Android navigation systems. Here again, it is an advantage that the devices come with a bracket that allows for hassle-free installation of the device. Plus, the multimedia itself will look like the original in the car.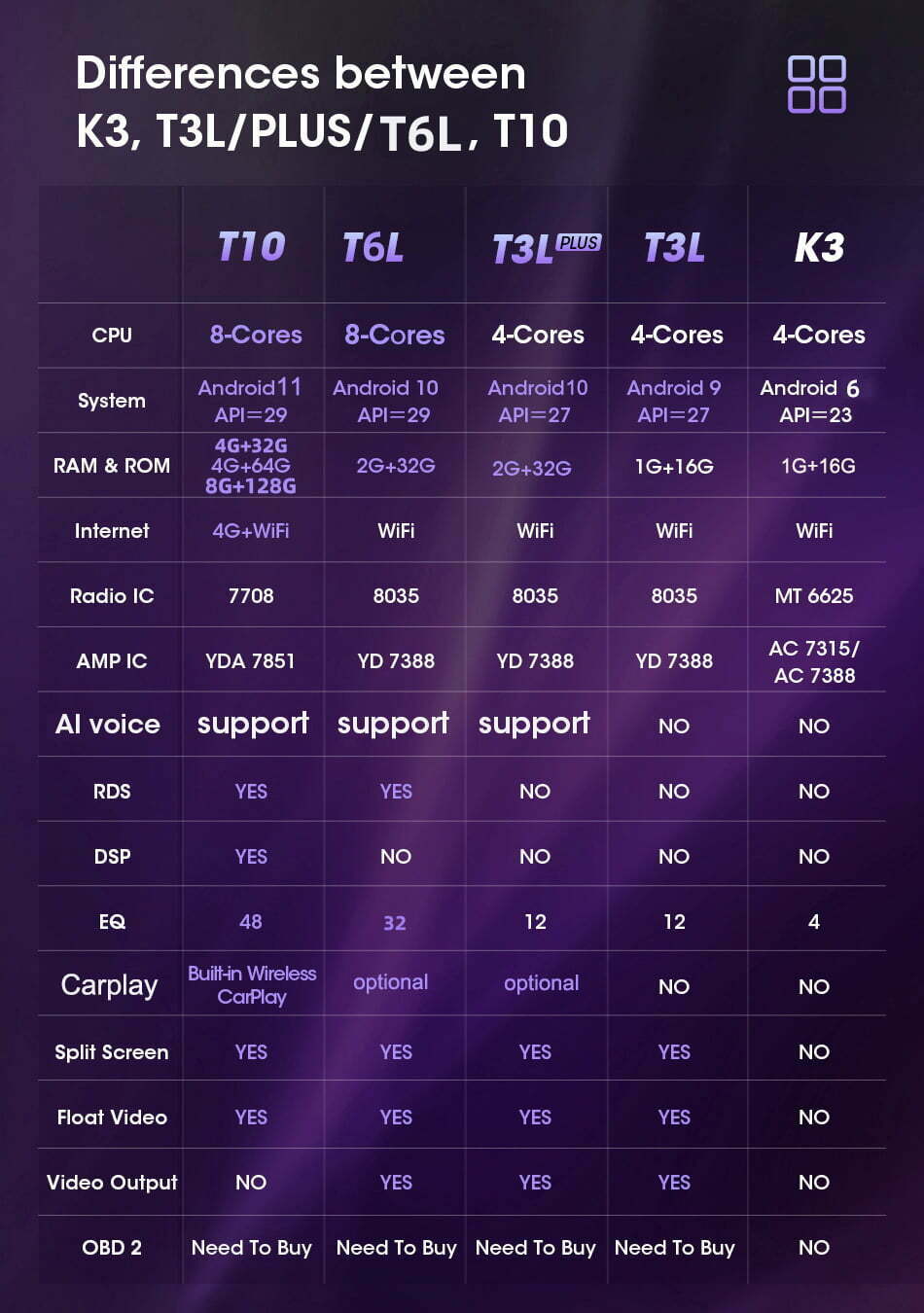 Where can I buy JMCQ Android media?
Idoing is a company established in 2008. In the last 8 years, it has specialized in the production of Android head units and accessories for them. The plant is located on an area of 10,000 square meters and has the capacity to produce 350,000 devices per year. The company maintains high standards and quality by integrating the ISO 9001:2000 system.
Where can I buy Idoing Android media?
Junsun is one of the TOP companies on Aliexpress and offers Android Head Units of exceptional quality. Over the years, the company has specialized in selling navigations with a customized user interface. Junsun have their own software department, which ensures that the design and functionality of their systems are always up to date with the latest technology.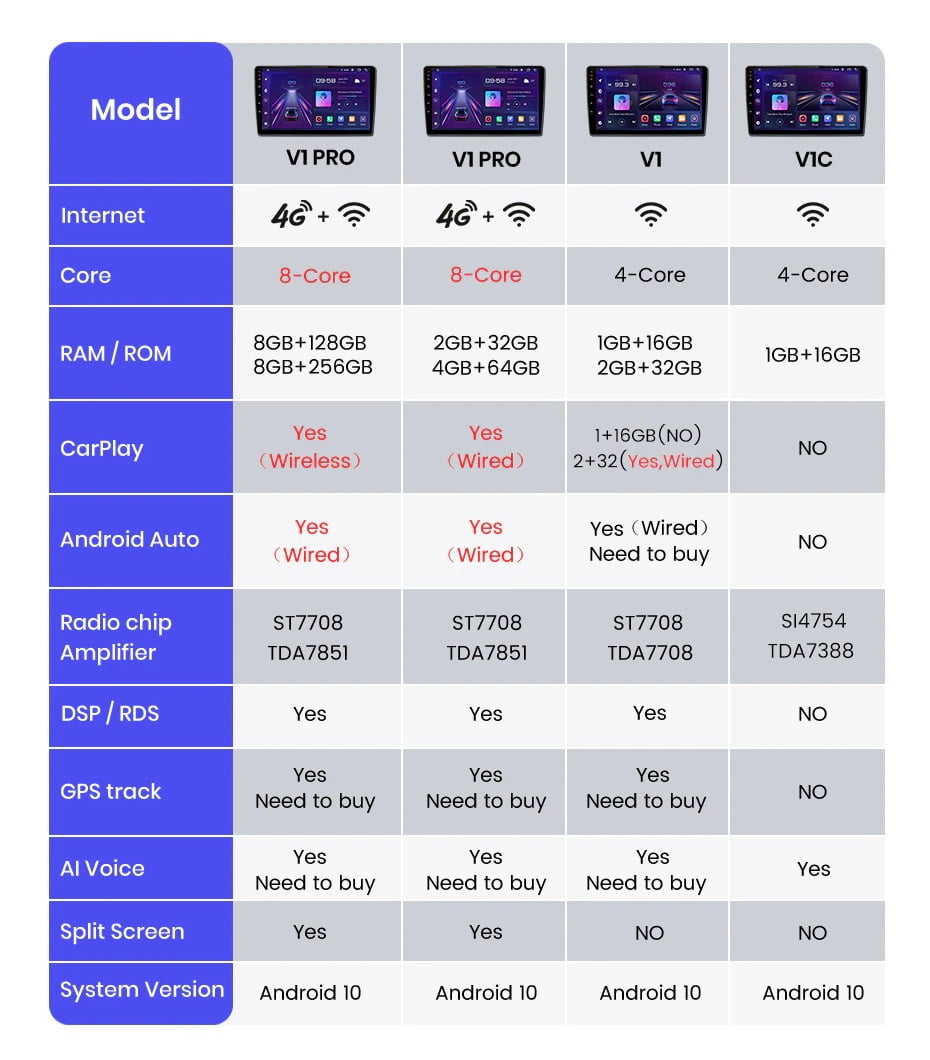 Teyes is a company founded in 2008 and is currently a leader in the production and sale of Android Head Units. The largest market share is in Russia and Eastern Europe. Teyes multimedia impresses with its modern user interface based on the Android operating system. The company invests a lot in innovation and offers unique functionalities in the devices it produces. Things like 3D visualization of the car's movement, warnings from the ADAS system directly on the main screen, visualization of the rear view camera while driving, are just some of the functions that are currently unattainable by other manufacturers.
The only drawback is the high prices, both of the Android devices themselves and of the additional gadgets. Which is normal – you still pay for quality and availability.
Teyes divides its Android Head Units into 5 models, which are in different classes according to their characteristics. Here is a comparison: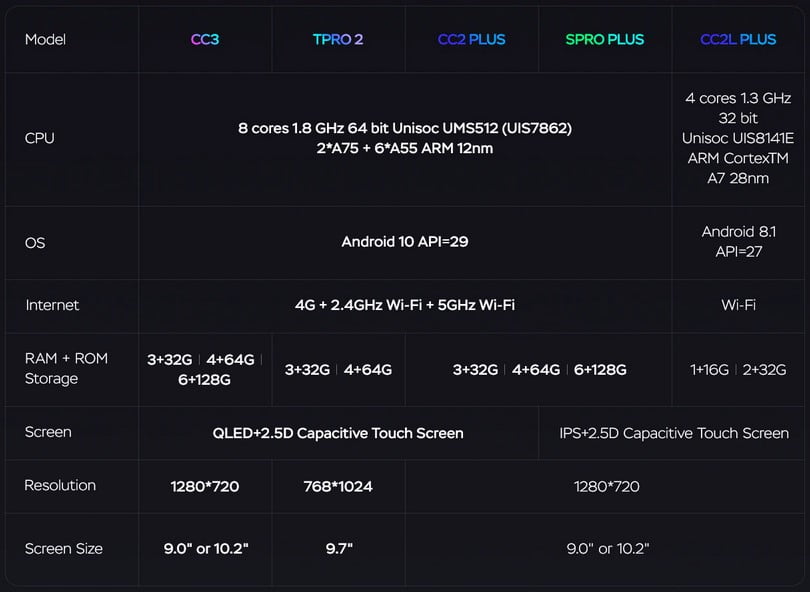 What is the best Android Head Unit in 2022?
The truth is, the best head unit for you depends a lot on the make and model of the car you drive. For me, the most important factor is the price. Choose the lowest price for the features you want. All the companies listed above offer quite high quality of the devices they offer, therefore the brand does not matter much. As I said, for me Android Head Units with features below 8-core processor and 4GB RAM is not worth buying in 2022.
My advice is – choose multimedia with 8-core processor and 4GB RAM and choose the lowest price. From there, if you need other goodies like voice commands, GPS tracking, etc., see which Android navigation offers all these features and go for it.