Since my first attempt to capture the Milky Way near the Stone mushrooms area located next to the town of Kardzhali was a complete failure, I decided to go back and make another attempt. The other reason for my return to the Stone mushrooms is that this place has great potential for astrophotography. Located in a relatively low light-polluted area, which is rarely seen at this altitude. The natural phenomenon is a unique landmark and the chance to capture the Milky Way in the background creates prerequisites for great photos.
And last but not least – on the internet, I did not found that someone else had tried to shoot the Milky Way from the Stone mushrooms area. So I was determined to come back again, but this time much more prepared. Again I arrived before sunset. Unlike my previous visit, this time the weather was great for photos.
The interesting thing was that for the first time here there were people from the neighboring villages who sold souvenirs at the entrance to Stone mushrooms park. Apparently in the summer days there are enough tourist flow and locals have discovered a new way for profitable business. The sunset was amazing and lit the Mushrooms in burning orange color.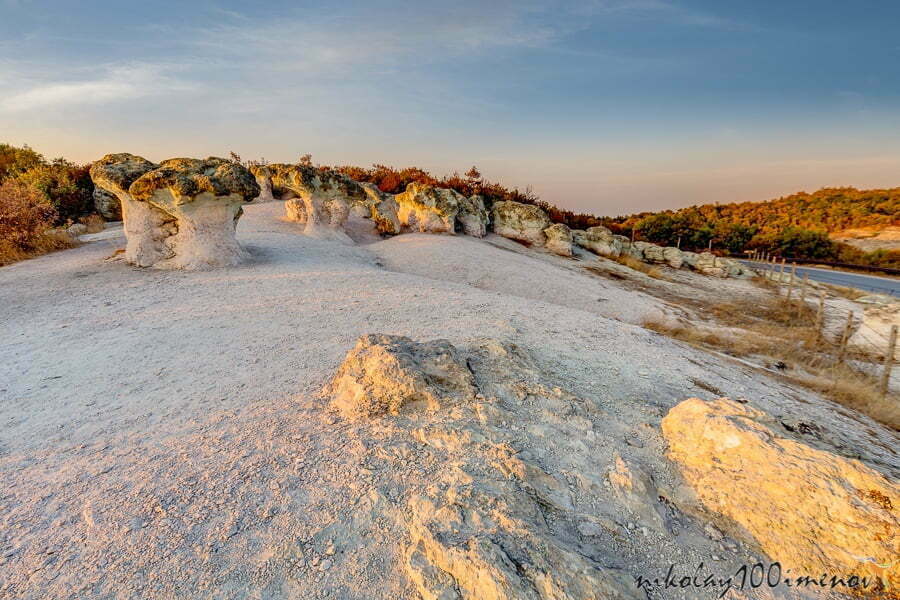 Stone Mushrooms near Kardzhali
I could not resist making a few shots in the area, although most of them are duplicate of my previous visits here.
It's just that the Stone mushrooms themselves are unique landmarks and one can not help it but make a few shots. Furthermore, I arrived quite early and had to fulfill the extra time. 
Since my main idea was to take pictures of the Milky Way I had to wait quite a while until its dark. I can boldly say that the wait was worth it because the photos turned out very good. Despite the light pollution from Kardzhali, the Milky Way could be seen very clearly.