The Devetashka cave in Bulgaria is believed to be one of the largest Stone Age caves in the world, with evidence of habitation dating back over 70,000 years. Among the various findings are human skeletons that are said to be the oldest and tallest in Europe, as well as fireplaces and ceramics from the Middle Neolithic period. This massive cave served not only as shelter but also as an ancient home to its prehistoric residents.
A beautiful phenomenon in Bulgaria, the Devetashka cave is a network of natural holes that's been used by humans for many purposes. Some are ancient and some are relatively new, but all of them are amazing to look at. The caves have been inhabited for over 70,000 years. In 2007, archaeologists found the oldest-known shoe in the world here. It was made from leather and animal fur back in 6500 BC! The caves have also been used for religious purposes; there's evidence of a temple from 5400 BC that was built with stones engraved with images of snakes and scorpions.
The cave itself is 2 442 meters long, it has 20 400 sq. m. total area, and at the highest point it measures 60 meters from the ground.
History of Devetashka Cave
This beautiful phenomenon of nature has been around for millennia, and it's often called the Sistine Chapel of Bulgaria. The U-shaped cave is located near the village of Devetaki in a mountainous region in Northeast Bulgaria. It is a natural monument that was discovered by chance in 1921 when residents started noticing that some newly dug pits had holes at their bottom.
What they found at the bottom were entrances to a series of caves with spacious halls up to 30 meters high.
It wasn't until 1984 when Bulgarian archaeologist Ivan Gheorghiev formally excavated and explored the caves that they became known as the Devetashka Cave. The site was later used as a military base during World War II and then as an ammunition depot.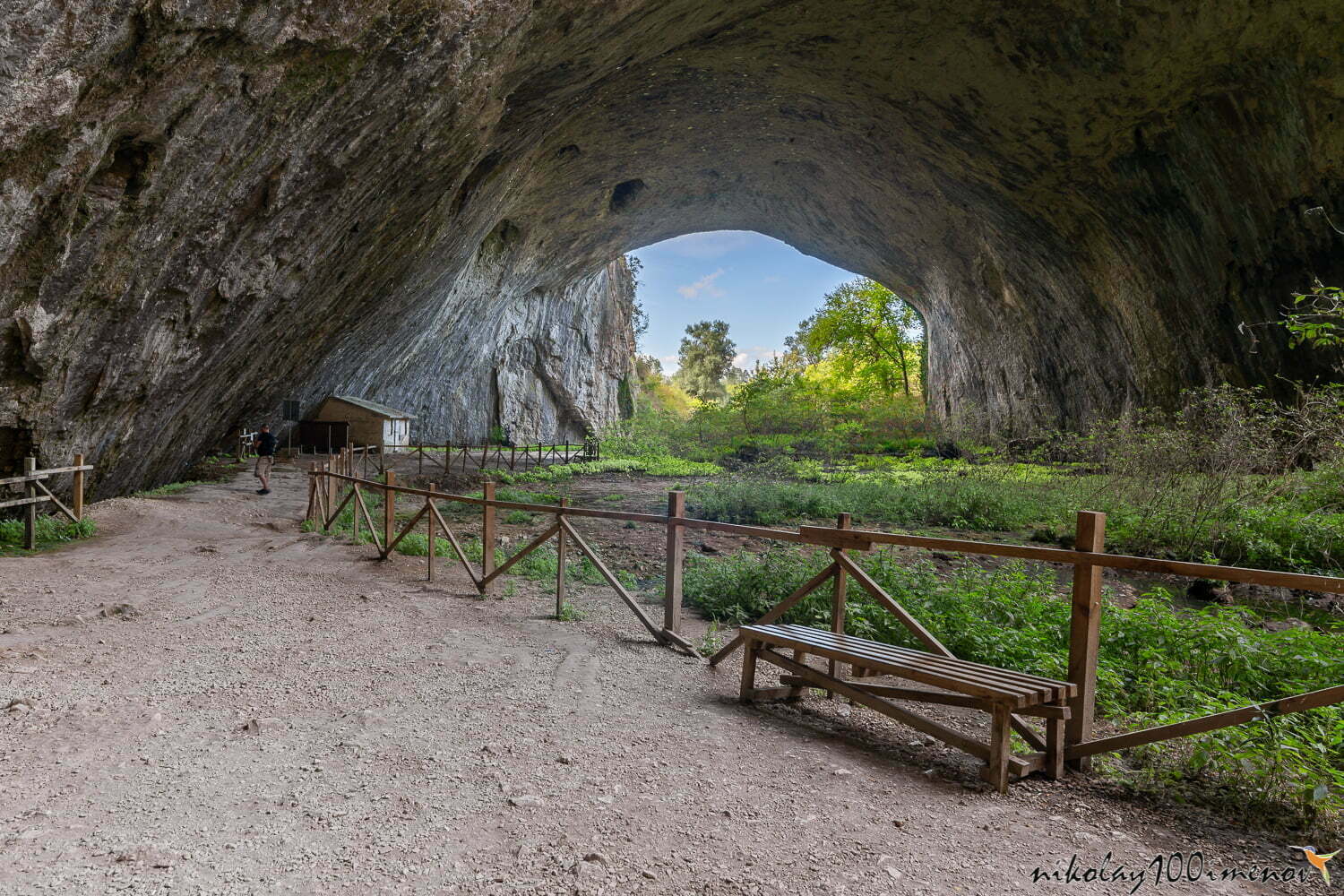 Devetashka cave, located around 15 km northeast of Lovech city, Bulgaria. The closest village is with the same name – Devetaki. The cavern is one of the world's largest and one of the most famous prehistoric caves in Bulgaria. It is also a prime tourist attraction that welcomes more than 30000 visitors each year.
Tourist attractions inside
Devetashka cave provides a habitat for a wide diversity of faunal residents and is the home to one of the most diverse subterranean faunas in Europe. If you are lucky enough to visit this natural wonder you will find a colossal entrance that leads into an enormous chamber with more than 4,000 square meters (43,000 sq ft) of floor space. It is also a unique opportunity to see two different worlds; from the moment you enter you can see that on your left there is nothing but bare rock, yet as you walk down the main passage, on your right there is moss-covered stony ground which was created by water seeping through cracks in the rock. Twelve species of protected amphibians and reptiles live here as well as fifteen species of bats. Different parts of the cave are closed during the breeding season of mammalian species.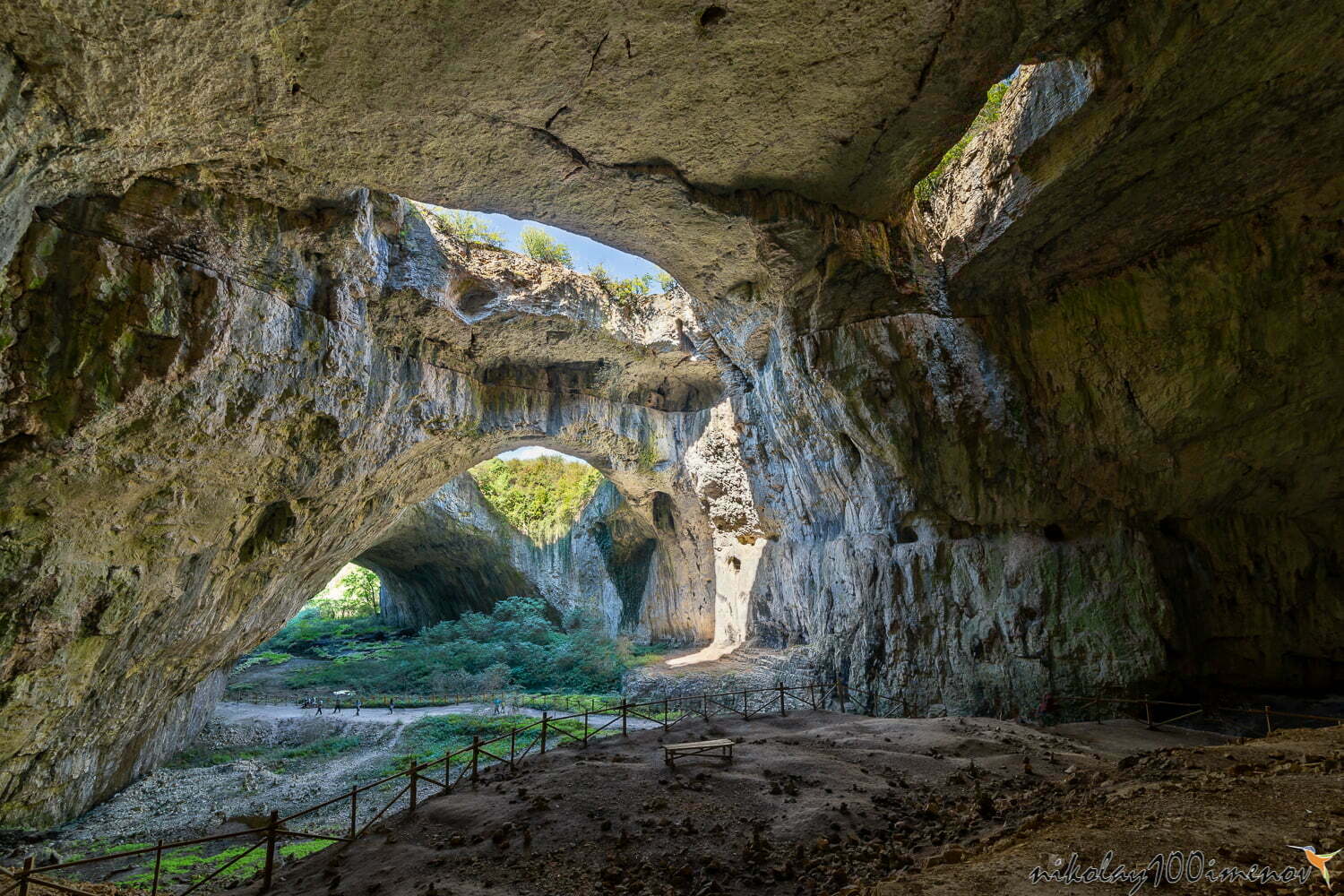 How do you get there and how much time should I spend?
The best starting point will be Lovech city located in central northern part of Bulgaria, about 150 km from Sofia. From there you need to take the road to Letnitsa town and on the half way there is a exit on the right with signs pointing to the Devetashka cave. It is about 25 minute drive. The cave itself is very flat and all parts are easily reachable, but it is better to wear good shoes, because it might get slippery after some rain. The temperature inside is around 7 to 10 degrees Celsius, so its is good idea to bring some jackets with you. You need about 30 min to walk inside the cave. Depends on how much you want to spend on photos. Because it is overwhelmingly beautiful sight to see and capture. There are a few spots with benches where you can sit down, rest and enjoy the magnificence of the Devetashka Cave.
Places to stay near Devetashka cave
Price to enter Devetashka cave (entrance fee)?
The price to enter the cave is 8 leva (about 4 euro). The ticket is purchased at the entrance booth. As far as I know there are no guided tours of Devetashka cave, unless you come with an orginized group or excursion. The opening hours of the cave are from 8:00 till 20:00 o'clock. The cave has a 24 hour security, so better come on time.
What else can I see around here?
You can visit Krushuna waterfalls and Stalbitsata cave after you see Devetashka cave. The Krushuna waterfall is about 10 kilometers from the entrance to the cave. It's a three-hour hike up and down. The Stalbitsata cave is about 15 kilometers from the entrance of the cave, and it's a three-hour hike back. I would suggest driving there.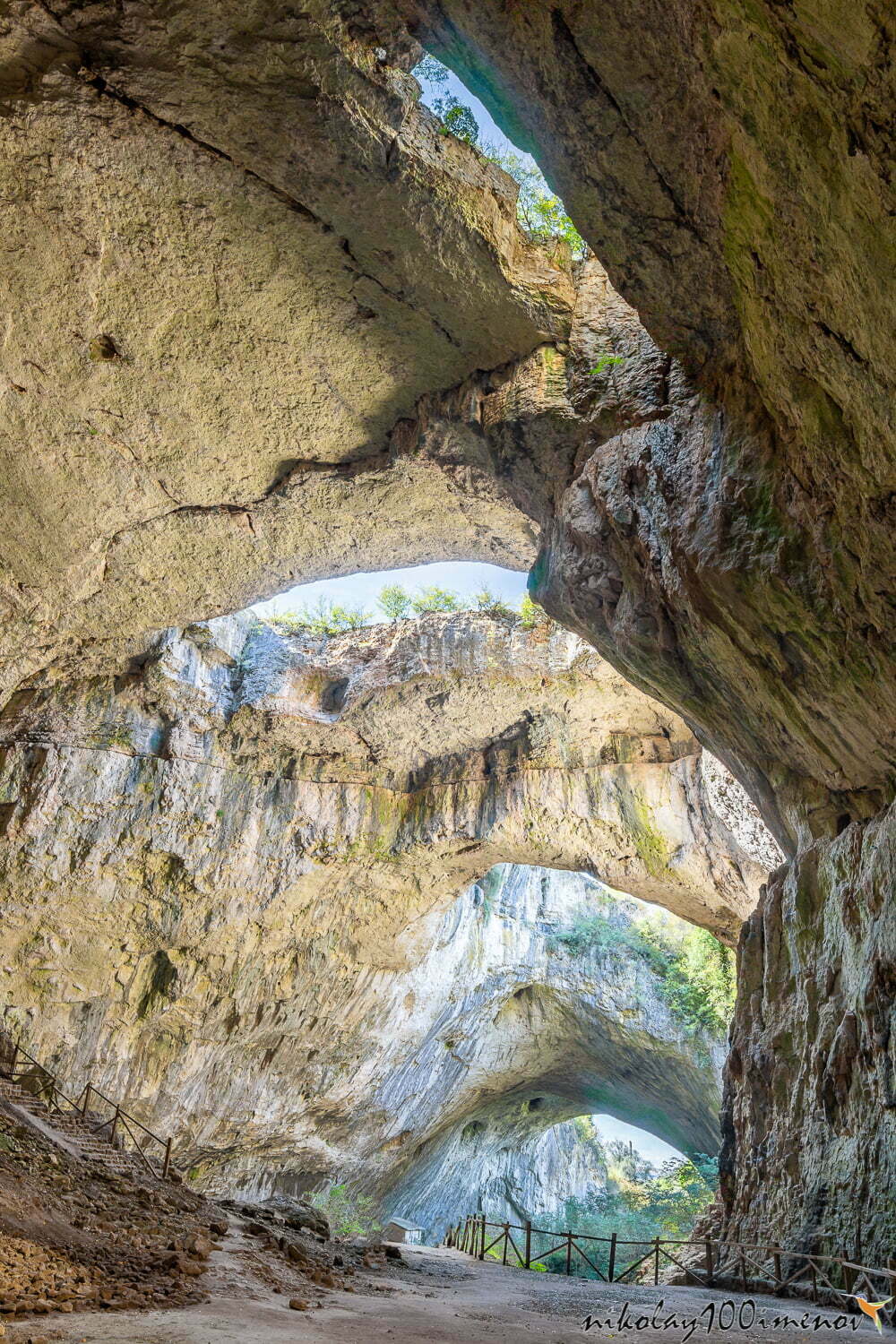 360 VR Tour of Devetashka cave